In North America, ribbon shirts and ribbon dresses can be seen at any of our cultural events. Though buckskin garments are highly prized for their beadwork, hand-lacing, conchos, feather and horsehair adornments, ribbon clothing can go from the dance circle to the office. Whether we are called Indians, Natives, Aboriginal People or Inuit, our many and varied tribes all live together on Turtle Island. At cultural events such as Powwows you will see all the various types of tribal regalia worn with great pride by our People.
NKJ Native Originals is pleased to present two Premier Collections of Native Dolls - "Standing Proud" and "Wrapped in Love". Narda has taken two years to create these two outstanding Native dolls. They are collector dolls designed for the discerning person who has a heart-felt appreciation for handmade workwomanship and traditional values.
NKJ Native Originals would like to present you with the opportunity to own a ribbon shirt, ribbon dress or buckskin apparel made by 'happy Mohawk fingers' on the Tyendinaga Mohawk Territory in southern Ontario, Canada. As you move through the pictures you may or may not see the style you are looking for. If you have something particular in mind we can create it for you, from a drawing or picture. Never hesitate to ask.
Narda Kathaleen Julg is a Mohawk who lives on the Tyendinaga Mohawk Territory. She creates unique clothing with a rich Native flair for Tribal members, movie stars and the general public.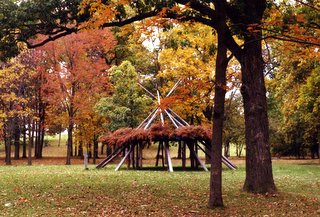 The picture in the centre is the Tyendinaga Powwow grounds in autumn. The line drawings on either side represent Canada. The eagle, giving the gift of eagle feathers, stands for the original First Nations and the maple leaves for Canada as it is now.